Superior Dining Services
Nutrition Management Services Company, founded in 1979, provides comprehensive healthcare food service and facilities management nationwide.
Learn About Us
From residents and patients to students and professionals, Nutrition Management Services Company works with a range of clients, dedicating to each of them the highest level of services, expert management and exceptionally nutritious food.
Senior Living
Communities
Life Planning Communities, Independent and Assisted Living, and Skilled Nursing Facilities know residents plan their days around meals, so we plan our days around the resident.
Acute Care
Hospitals
We deliver excellent food, superior service and cost containment objectives in the competitive managed care environment. Fresh food cooked-from-scratch, in a clean, healthy environment.
Private Sector
Education
Our commitment to students is focused on providing healthy food and hydration options designed for muscle and bone strength, balanced complexion and sport endurance.
Our Approach to Covid-19
At Nutrition Management Services Company, the safety and security of our clients, residents and staff has been a priority since before the pandemic and the importance of such sanitation has been reiterated during this time. As we have always adhered to state and national guidelines, whichever is most stringent, we now showcase these practices and continue to host in-services, compliance logs and routine infection testing.
Our mission is to provide high quality dining, expert management, and superior service. Through these consistencies it is our goal to be the premier provider of food service, operating within the financial capabilities and clinical responsibilities of our clients, in a clean, healthy environment.
Nutrition Management Services Company was founded in 1979 when a need to provide personalized and effective dining services was recognized within the healthcare industry. Since that time we have grounded ourselves in being an industry innovator, advocate to our residents, and financial stewards to our clients.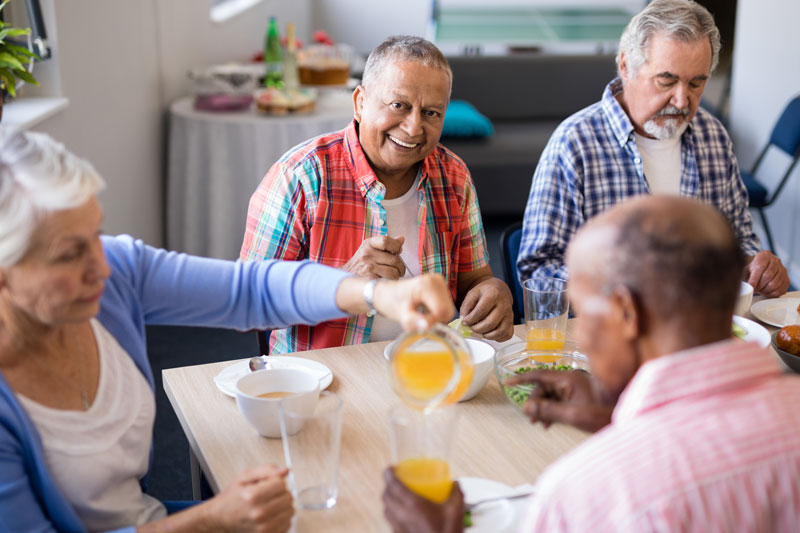 As a 20 plus year partner with Nutrition Management Services Company we have been exposed to many changes in the market and the long term care environment, time and time again Nutrition Management Services Company has proven to be a leader in the industry and a motivator for culture change, making sure that our residents are provided with not only well prepared, nutritious meals but also managed by dedicated professionals and forward thinkers. It has been a pleasure working with them and we look for a strong future as well."
– Rick, Administrator

To everyone in Nutrition Services – but I hope you know I appreciate everything you've done. I am so grateful for all the time, energy and talent which goes into the 'Dietary Experience' here at St. Ignatius Nursing Home. Yours is not an easy job and I appreciate your care and concern for our residents. God Bless you all."
– Maureen, Pastoral Care

I just want to say thanks to you for all the work you did to make our dedication PERFECT! Everything was wonderful. The coordination with the Lancaster Go tec, Nutrition Management staff and our staff were outstanding. Everyone told me how great the food was. Thanks for your commitment!"
– Colleen, Event Coordinator
The employees of Nutrition Management Services Company are our most important assets. They are dedicated professionals who truly enjoy what they do. Across all business functions, our team members strive to do more than expected, to create a better experience for those we serve.